Day 1: Hanoi -Halong Bay (L, D)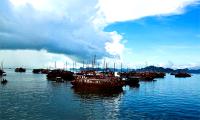 08.00: Take a 3-hour scenic drive from Hanoi to Halong Bay
12.00 Check-in at Bhaya Café, Halong City. Embark on Bhaya Classic for a Welcome Cocktail followed by a cruise briefing.
13.00 Savor a delicious Vietnamese buffet lunch as Bhaya Classic heads to Bai Tu Long Bay passing the towns of Hon Gai and Cam Pha, Oan Lagoon, Mat Quy (Monster Head) and Am Tich (Teapot) Islets and Vung Vieng fishing village.
15.30 Visit the fishing village by tender (30 minutes each) then return to the vessel for free time at your leisure or join one of the following optional activities:
Discover the fishing village by local rowing boat
Kayak into the village or swim near the boat
Optional onboard activities: Sunbathing, traditional massage, etc.;
Trip by tender to an isolated pristine beach for swimming, snorkeling, etc.
17.00 Bhaya Classic cruises through the Bay to its overnight anchorage near Ho Dong Tien.
Happy Hour & Vietnamese cooking demonstration on the Sundeck.
19.30 Sumptuous Seafood Set-dinner onboard.
21.00 Retire to your cabin or join the fishing program.
Overnight aboard Bhaya Classic
Day 2: Halong Bay (B, L, D)
6.15 Start your day with Tai Chi on the Sundeck.
7.00 Bhaya Classic weighs anchor to cruise the Bay. Early breakfast in the Dining Room.
8.30 Transfer to Bhaya Spirit for Lan Ha Bay excursion.
10.00 Guided kayaking, swimming & snorkeling at Three Peach Beach, a pristine natural beach lapped by the turquoise water.
12.00 Fresh seafood lunch is served onboard.
13.30 Continue on to discover Ho Ba Ham Islet, the most remote point in Lan Ha Bay and bordering the Gulf of Tonkin.
Visit its quaint fishing village and lagoon.
Possibility of kayaking through an amazing tunnel under a karst mountain (time permitting).
16.00 Return to Bhaya Classic.
17.00 The vessel cruises back through the bay to its overnight anchorage near Ho Dong Tien. Happy Hour & Vietnamese cooking demonstration on the Sundeck.
19.30 Sumptuous Seafood Set-dinner onboard.
21.00 Retire to your cabin or join the fishing program.
Overnight aboard Bhaya Classic
Day 3: Halong Bay -Hanoi (B)
06.15 Start your day with Tai Chi on the Sundeck while complimentary tea & coffee are served.
07.00 Bhaya Classic weighs anchor to cruise through the Bay passing beautiful spots like Trong (Drum), Trinh Nu (Virgin) and Me Cung Caves, Coc Ngoi (Toad) Islet, etc.
08.30 Explore the Surprise Cave (Sung Sot).
09.30 Return to Bhaya Classic. Buffet brunch is served onboard. The vessel cruises leisurely back to harbor.
11.00 Disembark at Bhaya Café, Halong City. Transfer back to Hanoi.