Day 1: Saigon –Nam Cat Tien (L, D)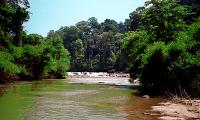 The Park was established in 1998 and is comprised of two separate areas: Nam Cat Tien and Cat Loc. Together they cover around 185,000 acres of evergreen rainforest, which is home to over 600 varieties of plants, 240 types of birds and 50 species of mammals, including the one-horn Java rhinoceros. However don't expect to see one on this afternoon's walk through the park.

Started from your hotel at 7h30, we leave the busy city of Sai Gon and heading to a mountainous area full of roadside plantations of rubber and green coffee. An approximately 3 –hour drive takes us to a former volcanic crater, known as Lava tubes. Crossing Dong Nai River to enter Nam Cat Tien National Park, we enable to begin our wildlife experience.
After lunch, we will drive 9 km by Jeep and then hike for three hour trekking through the rain forest to Crocodile Lake where you then have plenty of opportunities to see many varieties of bird life coming to the lake for drinking; and if you are lucky the chance of a larger mammal.

Return to the center for dinner and accommodation of today is a guesthouse in the park center.


Day 2: Nam Cat Tien –Saigon (B, L)
Wake up with the nice songs of native birds, we enjoy a simple breakfast at the center.
At 8am, we have 3 –hour cycling to Ben Cu area, wandering around the massive trees and visiting the rapids. Rest of the morning time in the park for lunch and return to Ho Chi Minh City around 4pm. Drop off at hotel and end services by Indochina Travel Service.